We love our pets and never want to think of saying goodbye.  But when your furry friend reaches senior status, it's a pet owner's responsibility to watch out for signs of a decrease in quality of life.
Read this article to learn what those signs are and what to do when you spot them.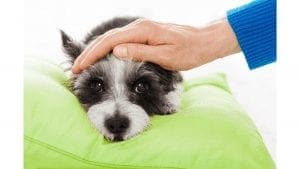 Signs to Watch Out For
Here is a list of what you need to be on the lookout for:
Fatigue – Is your pet losing energy? Has your pet lost the motivation to play with a favorite toy?
Decreased Mobility- Is your pet having trouble moving around? Is your pet getting stiff?
Lack of Appetite – Does your pet show zero interest in dinner?
Digestive Problems – Does your pet frequently vomit or suffer from other digestive issues?
Incontinence – Is your pet having accidents?
Quality of Life Scale
To assess your four-legged friend's enjoyment of life, use the quality-of-life scale. Created by Dr. Alice Villalobos, this scale makes it easier for pet owners to determine how well their senior pets are doing.
There are 7 different categories. Give your pet a score for each category on a scale of 1-10.  1 is the worst score possible, while 10 is the best.
The categories include:
Hurt
Hunger
Hydration
Hygiene
Happiness
Mobility
More good days than bad
If your pet's score surpasses 35, this indicates that his or her life is still tolerable.
What You Can Do
If your senior pet's quality of life is diminishing you can provide relief and comfort through palliative care treatments.  These treatments are used to reduce physical and emotional discomfort when there is no cure.
There will eventually come a time when you must make the difficult decision to put your beloved pet down.  This should be done when your pet's quality of life is no longer bearable.  Your veterinarian can help you determine when your pet has reached that point.
Watching out for your senior pet's best interest during this last phase of life is a wonderful way to show your appreciation for everything your pet has done for you.
Listen to the Senior Pet Podcast to learn more about caring for your senior pet.