Nordic Naturals Omega-3 – Fish Oil for Cats & Dogs
Fish Oil Liquid for Cats and Dogs, Omega-3s, EPA and DHA Supports Skin, Coat, Joint and Overall Health, in Triglyceride Form for Optimal Absorption
Nordic Naturals Omega-3 – Fish Oil for Cats & Dogs
Fish Oil Liquid for Cats and Dogs, Omega-3s, EPA and DHA Supports Skin, Coat, Joint and Overall Health, in Triglyceride Form for Optimal Absorption
WHY OMEGA-3 FOR DOGS/CATS - This Nordic Naturals pet product is made with the same exceptional quality oil as our human products, but has been specially formulated for your dog. Omega-3 Pet features omega-3 fish oil in liquid form.
PROACTIVE PUPPY PROTECTION - Research shows that the essential fatty acids EPA & DHA in fish oil help support your pet's heart, skin & coat, immune & joint health.
ONLY BEST FOR YOUR PETS - All of our omega-3 fish oils are in the triglyceride molecular form (the form naturally found in fish) for optimal absorption. Please use only our pet products for your dog or cat, not our human products.
GUARANTEED PURE - Every batch of Nordic Naturals fish oil is crafted from fresh, wild-caught, omega-rich fish. We are committed to using only non-GMO, gluten- & dairy-free ingredients with no artificial colors, flavors, or preservatives.
ETHICAL INNOVATION - Nordic Naturals has always been at the forefront of sustainable & ethical practices in the natural products industry. Our fish oils are Friend of the Sea certified & sustainably made in a zero waste facility powered by biofuel.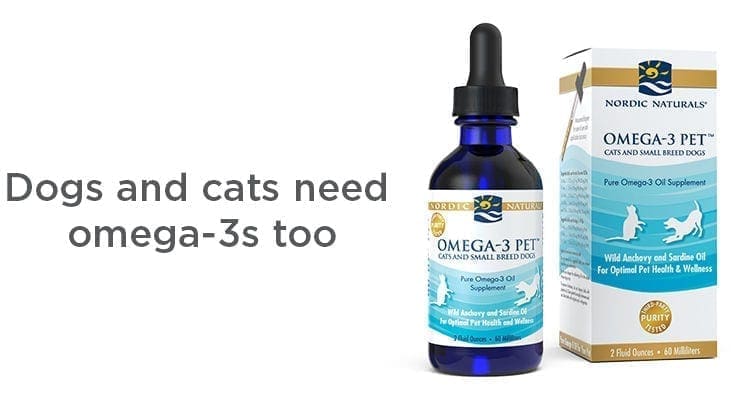 About Nordic Naturals
Since 1995 Nordic Naturals has been committed to delivering the world's safest, most effective nutrients essential to health. Our omega-3 fish oil and other foundational nutrients are research supported, expertly formulated, rigorously tested and proven effective. With products for the whole family, we deliver the nutrients essential for healthy living.
The Highest Standards
Nordic Naturals oils are distilled for purity and surpass the strict international standards for purity and freshness (European Pharmacopoeia and World Health Organization).
Award-winning Omega-3 Pet Formulas
Just like humans, dogs and cats need omega-3s to stay healthy. Made exclusively from sustainably-sourced sardines and anchovies, our award-winning Omega-3 Pet formulas give dogs and cats the daily serving of omega-3 EPA+DHA they need to live active, happy lives. Omega-3 Pet does not contain rosemary oil or flavorings, in order to ensure the safety of your pets.
Additional information
| | |
| --- | --- |
| Weight | 0.2 oz |
| Dimensions | 2.75 × 2.75 × 3.5 in |
| Unit-Size | 2 OZ, 8 OZ |