The answer to this question is – "it depends." By that, I mean, it has everything to do with what health issues your senior dog has at the present time. I do suggest that it is worth speaking with the groomer to see if they have experience working with senior pets. Let me break down some of the common conditions and special grooming precautions so you know what to ask before the grooming appointment.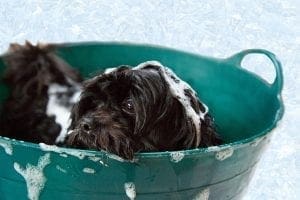 Heart disease/failure: This is the one that causes us the most concern. Often these dogs are doing well but if they get overly stressed or anxious that can exacerbate their heart issues.
Anxiety: Many dogs have anxiety at a grooming facility but it is made worse by senior pets. When you factor in cognitive impairment, eye degeneration, and other issues, a trip to the groomer can be a terrifying thing for a senior dog. If your dog has bad anxiety then I would strongly consider looking into a mobile groomer that can come to your house, if that is an option.
Arthritis: Typically, groomers do everything with the dog standing up. As you can imagine, if you have a senior dog with arthritis or other degenerative issues, this can be a painful experience. Making sure your pet is on appropriate pain meds and letting your groomer know to groom for short periods at a time can help out a ton. We covered arthritis on this episode on the Senior Pet Podcast.
Grooming certainly is still an important part of the care of senior pets but you need to make sure that both you and your groomer understand the importance of handling your senior pet with care and based on what their individual issues are.
– Dr. B