How about if we take a second and talk about emergencies; something that doesn't just apply to senior pets. I think I can say with 100% certainty that all of us will deal with at least one emergency with our pets at some point in their lives. These emergencies come in all different shapes and sizes from; eating things they aren't supposed to, injuries and wounds, and a myriad of other things that can happen. I think it is safe to say that emergencies rarely happen at a good time. In fact, in my many years of practice, I have received countless texts and phone calls in the middle of the night and weekends when only emergency clinics are open. I think it is also safe to say that few of us are prepared to handle these type of emergencies.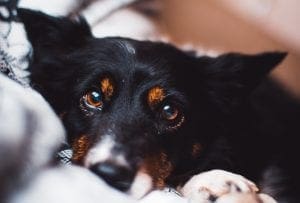 Believe it or not, many of these emergencies can be handled at home. At least, if not fully treated, you can also help reduce the severity or manage the issue until you can see your trusted veterinarian. With the rise of telehealth platforms, you can get home assistance at all hours of the day. But, you have to be prepared. I have consulted in telehealth since 2008 and I cannot tell you how often pet owners do not have the necessary equipment at home to manage the things that can go wrong with their pets. A great example of this is when a dog or cat eats something dangerous. Often, if we can institute vomiting, we can significantly lessen the effects of the toxin and sometimes eliminate any concern altogether.
I wish I could give you a laundry list of all the things you should have at home. However, we are very fortunate. I happened to find a product called the Home Vet Bag which is an at-home emergency kit that literally contains everything you could possibly need in a compact, high-quality mobile bag. Best of all, it was created by a veterinarian which means we can trust the quality of the products within the kit.
I rarely recommend other products on this blog unless I trust them and I think the Home Vet Bag is something all pet owners should purchase. Just like with insurance, we hope we never have to use it but we will be unbelievably thankful we have it if something goes wrong!
You can find the Home Vet Bag on their website here on Amazon using this link. Please remember to include some of your pet's medications in that bag if they are on chronic meds and create an 'on-the-go bag' for any emergency.
– Dr. B